Digital Marketing Strategy In 7 Easy Steps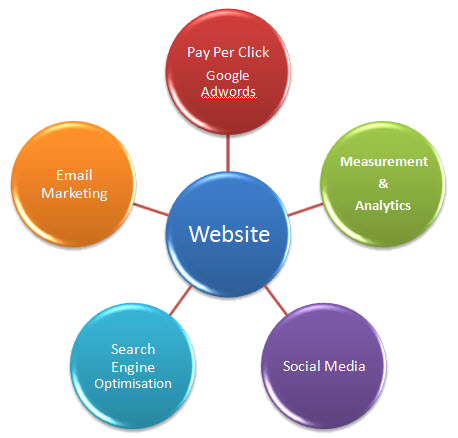 Are you looking for a way to increase your online presence and drive more sales? If the answer is yes, it's time to get serious about digital marketing. With the right strategy in place, you can create a comprehensive plan to help your business reach its online goals. It can be simple, too.
7 Steps To A Winning Digital Marketing Strategy
Have you ever felt overwhelmed by starting a digital marketing strategy? It can be daunting, especially if you need help figuring out where to start. But fear not! We've created this easy-to-follow guide that will help you get started on the path toward creating proven digital marketing strategies. Here are seven digital marketing strategy steps leading you in the right direction. 
Step #1: Search Engine Optimization
SEO is critical to any successful digital marketing strategy and should be noticed. SEO stands for search engine optimization, and its goal is to help improve a website's ranking on search engine results pages (SERPs). SEO involves:
Researching and understanding how people search.
Incorporating those keywords into website content.
Improving the user experience through easy-to-understand language and attractive design elements. 
It includes creating quality links that link back to the business's website and optimizing social media content so that it's more likely to appear in relevant search engine results. It also monitors analytics data to ensure you reach the right audience with timely content. 
SEO is a complex process that takes know-how and dedication, but when done correctly can significantly increase not just web visits but also leads and sales. SEO is an investment worth making to ensure that your digital marketing strategies succeed.
Step #2: Pay Per Click (PPC)
PPC (or Pay Per Click) is indispensable to any effective digital marketing strategy. It is paying for ads to appear directly in search engine results, ensuring that your content is more visible and engages a larger audience. PPC campaigns are highly targeted, allowing you to optimize budgets while still reaching the right people. 
Put, PPC offers an efficient way to increase brand visibility and reach potential customers faster, leading to more conversions. PPC allows businesses to make smart investments with precise targeting on their preferred online platform for maximum efficiency at a minimal cost. PPC can also track a range of metrics, such as click-through rates, bounce rates, and conversions, to monitor overall success while having the ability to adjust accordingly with precise targeting options.
Step #3: Content Marketing Strategy
Content is key to creating visibility, building relationships, and generating leads online. Content Marketing drives website traffic by helping reach potential customers through relevant content distributed across channels such as search engines, social media platforms, and newsletters. Content provides value while reaching out with products or services in an informative way. 
Content can inform, educate and engage audiences, and when done well, it creates trust between the company and the brand. Content marketing should be viewed as an investment that pays its dividends over time. With more businesses focused on developing their digital presence, Content Marketing is no longer an option; it's essential for staying ahead of the competition.
Step #4: Email Marketing Campaign
Email Marketing is one of the major steps to any organization's digital marketing strategy as it allows them to stay connected with their customers, build relationships and keep their audiences up-to-date. By staying in regular contact with existing customers, businesses can better optimize experiences that motivate individuals to interact with their products and services in meaningful ways. 
Emails can let messages reach consumers at different stages in their journey, yielding higher engagement and sales if done correctly. Additionally, email marketing provides companies with an opportunity for larger-scale communication that can be directed toward specific target groups with little effort or cost. As such, email marketing remains a cornerstone of many successful digital marketing strategies today.
Step #5: Social Media Marketing
Social media has become one of the most powerful online tools for connecting with potential customers. It allows organizations to keep their target audience up to date on relevant content and news that might benefit them, leading to higher conversion rates. Social media content can include videos, photos, stories, posts, polls, and surveys - all explicitly tailored to reaching your desired goals and objectives. 
Social media allows businesses to access a large pool of potential customers that would otherwise be inaccessible through more traditional methods - making it a key step in your digital marketing strategy! Through social media platforms like Facebook, Twitter, Instagram, and others, businesses can create relationships with their customers by sharing relevant content or responding directly to customer inquiries or complaints.                               
Step #6: Voice Search Optimization
Voice search is an increasingly popular way for people to find information quickly on mobile devices or voice assistants like Alexa or Google Home. To optimize for voice searches, businesses should focus on crafting natural language phrases instead of targeting single keywords like they would in traditional SEO campaigns. 
Additionally, businesses should prioritize creating high-quality snippets so that their content appears when people search via voice commands rather than typing out queries into text boxes on search engines like Google or Bing.                
Step #7: Video Marketing Strategy
Videos are another excellent way for businesses to connect with their audiences online. They capture attention quickly while providing valuable information about products or services in an easy-to-understand format. Additionally, videos can be embedded into websites easily, making them even more shareable across multiple platforms, from YouTube to Twitter and beyond!
Video has become an invaluable tool to shape consumers' opinions, build trust in the product or message conveyed, showcase creativity, and differentiate your company from the competition. Video marketing is a powerful resource that should be utilized by any business hoping to grow its reach and foster real connections with its customers.
Summing Up!
Digital marketing is an essential part of any modern business's strategy. Businesses can use various digital marketing channels, from email marketing to social media campaigns and voice search optimization. By following these seven easy steps outlined above, businesses can stay ahead of the competition and use digital marketing to its full potential. 
If you are still facing difficulties creating digital marketing strategies, Soap Media is here to help you succeed. Our extensive knowledge and experience can be leveraged to create effective campaigns that bring targeted leads and higher engagement with your business. Contact SOAP Media today to learn more about how we can build your business and an effective digital marketing strategy to succeed online!