Digital Marketing for Real Estate Companies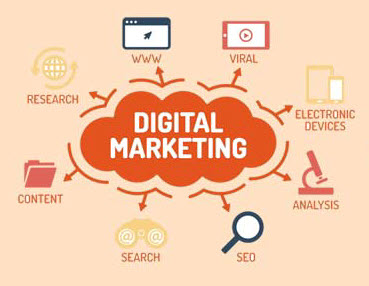 But it also presents some unique challenges for businesses. Standing out in this climate can be difficult. Particularly as customers continue to rely on the internet for their real estate needs and leads. How can your real estate businesses attract quality leads and turn those leads into sales when there are thousands of other companies to compete with?
That's why you need a digital marketing agency that specializes in promoting real estate businesses. One skilled at boosting your business to the top of the list. After all, what's the point in having an outstanding property if no one can find it?
Benefits of digital marketing for real estate companies
Digital marketing is a key component of any growth strategy, particularly for those in the real estate industry. The internet has transformed the way clients shop and buy homes. Many Canadians find their new property from the comfort of their current homes. They can see images, get neighbourhood or community information, and take virtual tours online. It has even enhanced the purchasing process, with many applications being made digitally.
Building a strong online presence offers significant benefits for real estate businesses, such as
Cultivate customer relationships
Boost your company reputation
Increase traffic to your website
A bonus is that digital marketing is also less expensive than traditional marketing methods. So, you can boost your bottom line without taking a big chunk out of your budget.
But to get the most from your digital marketing efforts, you need to work with an agency that understands the real estate marketing landscape.
Digital marketing for real estate businesses
At Soap Media, we employ several tools to help you achieve your digital marketing and sales goals. These include:
Website development and design
Your website is your calling card. It's the prime online location to sell your real estate business. But just having a website where you list your latest properties available is not enough. To stay on top of the game, you need to ensure your website loading time isn't costing your visitors. And what about mobile visitors? Is your website looking good on different sizes and styles of screens? Is the content useful for your audience?
A lot goes into building and designing a website for real estate marketing. At Soap Media, we know that good design involves bringing together high-quality and informative content with seamless design features. Remember that for most clients, your website is their first impression of your business and your credibility.
Search Engine Optimization
Search engine optimization or SEO is vital to your real estate company. If your website ranks high on search engines and attracts quality traffic, that's half the job. Most client relationships begin with an online search in the real estate industry. And 90 percent of real estate companies have a website. Ensuring you have a solid SEO strategy is one of the best ways to rise above the crowd, according to the National Association of Realtors.
Our SEO specialists will research and determine the best keywords and phrases to attract clients who are ready for their next property. We called this reaching your targeted audience. When you're able to attract more quality traffic and leads, you'll find it easier to convert them into sales.
At Soap Media, our digital marketing services for your real estate company include:
Local listing creation

Mobile optimization

Competitor analysis

Strategy and keyword research

Site audit

Consultation with our Google Certified Experts
---
---
Social Media
If you're serious about growing your real estate business, you'll need a solid social media strategy. To successfully attract new clients, you'll need to regularly post on your social media accounts. And what you post can make all the difference. When you post quality content, users will come to see your real estate company as a reliable source of information that they can trust.
Pay-per-click ads
In the real estate world, images sell. Using your best photos for pay-per-click ads is another vital component of your digital marketing strategy for your real estate company. These are ads that you pay for only when someone clicks. It is an excellent way to connect to new clients who are genuinely interested in doing business with you.
Pay-per-click ads can be customized to target online users who have searched for keywords or phrases related to your business. They also appear at the top of a search page, so it will be one of the first things an audience will see. Because PPC ads focus on users who have previously indicated an interest in real estate, you're also improving the quality of traffic to your website. These will be clients that are primed to purchase.
Content creation
Producing quality content can help you cultivate a strong connection with clients. Regularly publishing content to your website and sharing it on your social media accounts can help new users find you. And once they see the value your content offers, you can build a stronger following. This can turn into multiple sales for you from the client and those they recommend your services to.
As a real estate professional, some of the content we can help you create includes:
Slideshows

Videos

Online training workshops

Webinars

Virtual tours

Blogs
When it comes to creating content for your real estate company, you can be as creative as you want. It's as much as letting your company culture shine as it is offering interesting and informative content.
Why choose Soap Media for your real estate company's digital marketing needs?
Real estate companies that want to stand out online need to build a robust digital marketing strategy. Soap Media offers experience, expertise, and knowledge in the most up-to-date marketing tactics. Our clients see results within the first few months.
To get started, we recommend starting with a review and a plan.
Website SEO audit - Our team will perform an SEO audit that will identify the strengths and weaknesses of your website. It's vital to know where your site is performing well and what needs to be adjusted. Our team of Google Certified experts are skilled in recognizing how to create a stronger SEO performance for your real estate company website.

Digital marketing strategy -A digital marketing strategy for your real estate business is what we consider a plan of action. Without it, you won't get the most from your digital marketing efforts, as it will be like driving without directions. At Soap Media, we excel at designing customized digital marketing strategies that identify your real estate company's strong selling points.  Consider your digital marketing strategy like your road map to successful online marketing.
Are you ready to generate leads and make more revenue for your real estate company? Contact Soap Media today.